Education is… making visible what is hidden as a seed.
Thomas More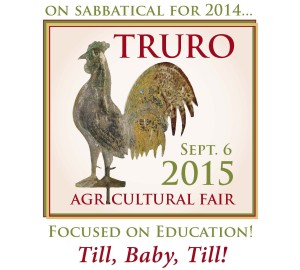 Please Note: In 2014 the Truro Agricultural Fair is taking a sabbatical to focus on its educational mission. We look forward to seeing you at the fair on September 6, 2015!
Sustainable CAPE's Truro Agricultural Fair – celebrating Agriculture, Aquaculture, Fishing and Farming– is an annual event on the Sunday of Labor Day weekend in Truro Center. Offering a delicious variety of locally harvested foods from land and sea, the fair encourages a deeper appreciation of the traditional harvesting industries taking place on Cape Cod today. It showcases the Cape's history, the foods currently grown and harvested, and connects the health of our local food system to our physical health, environment and future.
Goals and Benefits
We aim to educate – every fairgoer can learn about local food as well as positive steps each of us can take to help sustain our physical health, land and water resources. Our varied displays provide a venue for the exchange of ideas and experience. The fair also creates opportunities for involvement and positive connection, fosters volunteer service, raises community spirit and benefits the Cape's economy by offering a venue for the community to market their harvest and appreciate their neighbors' work.
A multi-generational event, the Fair celebrates our harvesting history as we focus upon the future health of our community and this glorious sliver of land. All, of course, while having fun!
Note: The Fair's components are documented and measured for replication off-Cape.